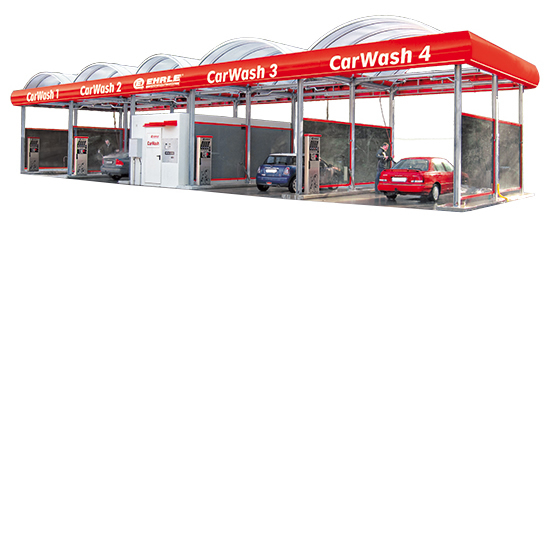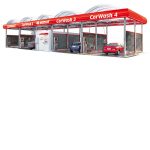 SmartLine Steel Structure
Call for Price
The SmartLine steel structure can be put together according to customer requirements. All options can be selected individually and independently from each other. The SmartLine steel structure gives your self-service car wash system an individual, unique character.
Description
Polycarbonate roof – elegant curved design
The polycarbonate roof made of 10 mm thick double sheets reinforced with aluminium support profiles is elegantly mounted onto the SmartLine steel structure with EPDM lip seals. Rainwater is drained away between the light strips. The polycarbonate roof has a special coating, provides a self-cleaning effect in rainy conditions and is protected against hailstones.
---
Elliptic-shaped fascia – galvanised and powder-coated
The elliptic shaped fascia gives your system a unique visual highlight.The fascia is simply suspended in the fascia support provided in the steel structure and secured to be windproof so that the inner rain gutter technology components can be elegantly concealed.
---
Illuminated advertisements – individual and customised
You can receive an individual advertisment tailor-made for you on request. Any type of font or customer logo can be integrated in the SmartLine fascia with various colour designs.
---
LED tube lights instead of neon advertisements
Modern LED tube lights can be fixed to the lower edge of the SmartLine fascia. LED tube lights can save up to 90% more energy than standard neon advertisements. LED tube lights are supplied with 24 V DC (low voltage). The temperature for use is between -30 and +60 °C. Your carwash system shines through the dark autumn and winter months with the visually attractive lighting design.
---
Glass partition walls – high strength made of safety glass
The individual wash bays are separated by glass partition walls with 12 mm thick laminated safety glass. The glass panes are clamped in powder-coated and anti-vandalism aluminium window frames. The glass partition walls are particularly recommended for your self-service carwash for top boxes and design-orientated systems. The glass partition walls and aluminium frames are available in various RAL colours.